Collagen Complex Hair Thickening Conditioner, 250ml
Introducing the UK's first ever collagen complex formula conditioner that has been expertly formulated to tackle fine, thin hair and boost volume while keeping hair lightweight and gorgeous. Our unique collagen complex formula has been painstakingly developed by leading hair specialists to strengthen, thicken, nourish and volumise, and it's clinically proven to boost hair thickness by up to 20% in just 8 weeks with everyday use and when used in conjunction with our thickening shampoo*.
A little goes a long way: use just a 10p coin sized amount of our thickening conditioner as part of your daily hair washing routine. Our conditioner works best when used daily with our thickening shampoo. Try our thickening shampoo & conditioner together!
*Source: Consumer testing conducted 2021
Select purchase option
Repeat order (automatic renewal) - No obligations - Cancel any future order 👍
Free UK delivery on all orders

"(I have) super fine hair and loving the shampoo and conditioner, it's getting thicker every day!" - Suzie

BETTER TOGETHER
Try our shampoo & conditioner together for best results from £28.00
View product
Science
Our groundbreaking new thickening conditioner uses a unique collagen complex formula to tackle thin, flat hair and boost thickness, strength, volume, and shine.
The collagen complex formula includes soluble collagen that wraps the hair cuticle for shine and protection from external damage and environmental stress, leaving it glossy, shiny, frizz-free and easy to style. Internally, collagen amino acids penetrate into the hair's cortex, volumising and thickening from within while leaving hair lightweight and gorgeous.
Other ingredients in our powerhouse formula include wheat protein to increase the body and volume of the hair, and plant protein which strengthens the hair. For best results, use after Absolute Collagen thickening shampoo, try them together and alongside a daily dose of our premium collagen drink.
The Benefits
Absolute Collagen's thickening shampoo, thickening conditioner and daily collagen drink are the powerhouse trio your hair will love. One sachet a day of Absolute Collagen counters natural loss of of collagen that occurs as we age, providing your hair with all the essential amino acids it needs in order to thrive.
Did you know, hair cells are the second thirstiest cell in the body, but one of the least essential? In practical terms, this means a decline of collagen and lack of protein will often affect hair first, leading to unwanted symptoms like thinning and brittleness.
Our groundbreaking collagen complex formula provides deep nourishment to the hair's internal cortex - for greater strength and volume - as well as smoothing and hydrating the external cuticle, for hair as full of life as you are! Enjoy stronger, thicker, more volumised hair with a lightweight flourish.
About Absolute Collagen's Thickening Conditioner
Our Absoluters shared their hair concerns - thin, fine hair that's often weighed down by existing thickening products - and we created our collagen complex formula conditioner to tackle these hair issues. Our conditioner is 96% natural, paraben free and not tested on animals, and has been expertly formulated specifically to boost hair thickness and volume without weighing your hair down or clogging the hair with built-up, weighty product.
We're proud to have partnered with leading UK hair experts and scientists, including Eva Proudman MIT IAT, the Chairman of the Institute of Trichologists, to develop and test Absolute Collagen's thickening conditioner. Eva's clinical trials show that daily use of our thickening conditioner and thickening shampoo together can boost hair thickness by up to 20% in just 8 weeks.
Ingredients & Other Need to Know Information
Aqua (Water), Glycerin, Cetearyl Alcohol, Cocos Nucifera (Coconut) Oil, Behentrimonium Chloride, Olea Europaea (Olive) Fruit Oil, Cetrimonium Chloride, Parfum (Fragrance), Amodimethicone, Ricinus Communis (Castor) Seed Oil, Ethyltrimonium Chloride Methacrylate/Hydrolyzed Wheat Protein Copolymer, Prunus Amygdalus Dulcis (Sweet Almond) Oil, Pentylene Glycol, Collagen Amino Acids, Hydrogenated Vegetable Oil, Dehydroacetic Acid, Trideceth-12, Triticum Vulgare (Wheat) Bran Extract, Soluble Collagen, Citric Acid, Disodium EDTA, Phenoxyethanol, Potassium Sorbate, Leuconostoc/Radish Root Ferment Filtrate, Sodium Benzoate, 1,2-Hexanediol, Caprylyl Glycol, Tocopherol, Benzyl Alcohol, Hexyl Cinnamal, Limonene, Linalool.
Updating My Order: At Absolute Collagen, we make it easy for you to amend your order, whether you want to take a break from AC or bring forward your order. For further information regarding our cancellation policy, please read our terms and conditions.
Frequently asked
questions
Why did we create it?
There are several thickening hair products out there, but they use heavy formulations that build up and weigh hair down, leaving it limp and flat. Absolute Collagen's thickening shampoo and conditioner is the UK's first collagen complex formulation shampoo and conditioner. It works to nourish, thicken, and volumise thinning hair, while maintaining that all-important lightness.
How does it work?
Just a small amount of shampoo and conditioner delivers powerful results. Hair is visibly thicker and more volumised.
Our groundbreaking new formula nourishes and strengthens hair inside while wrapping the hair cuticle to protect it externally, keeping it nourished and volumised.
It tackles thin, fine hair with the power of our unique collagen complex formula, increasing strength, volume, gloss and shine. It also reduces breakage and hair shedding.
Who should use it?
Anyone with thin, fine hair who would like to increase their hair thickness and volume. It's suitable for all hair types and can be used on bleached and dyed hair alike. Consumer testing shows that coloured hair doesn't fade even after 12 weeks of use, so Absoluters can be confident their colour won't be affected by our products.
As it contains collagen, the shampoo and conditioner are not suitable for vegetarians or vegans.
How much should I use and how often should I use it?
You only need to use a small amount of the shampoo and conditioner as they are powerful and effective - we recommend using an amount that's roughly the size of a 10p coin.
We recommend you wash your hair a minimum of 5 times a week for the optimum results, however we understand this isn't suitable for all lifestyles. Every other day will also work well, but it may take longer to see results.
Click here to read more haircare FAQs.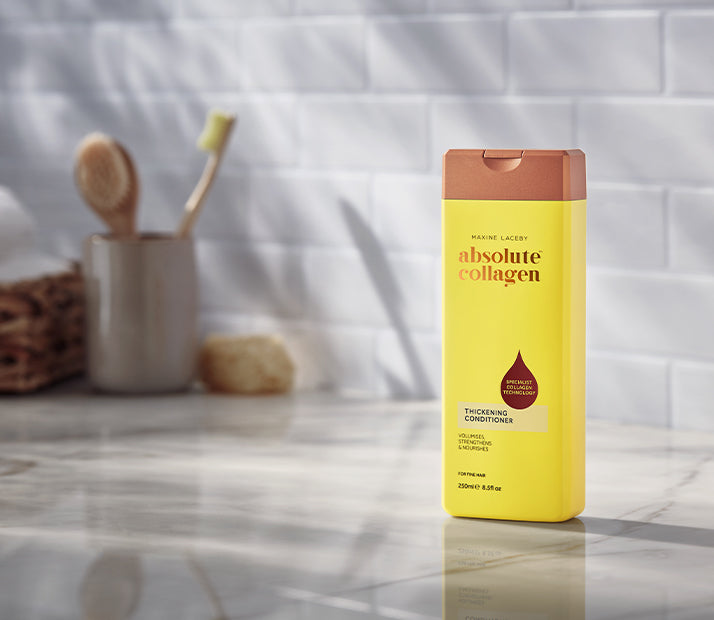 The
power

of our collagen conditioner

Our liquid collagen has been expertly formulated here at Absolute Collagen within our Complex Hair Thickening Conditioner to boost hair thickness and volume while keeping your hair lightweight and gorgeous.

So, why choose our collagen conditioner?
Endorsed by the UK's leading hair specialist, Eva Proudman, Chairman of the Institute of Trichologists.
Absolute Collagen's Complex Hair Thickening Conditioner uses a unique liquid collagen complex expertly formulated, to specifically boost hair thickness and volume without weighing your hair down or clogging the hair with built-up, heavy product.
Our recent hair trial revealed that Absolute Collagen complex hair thickening shampoo & conditioner improved hair texture and thickness by up to 20% in just 8 weeks.
We've been featured in...