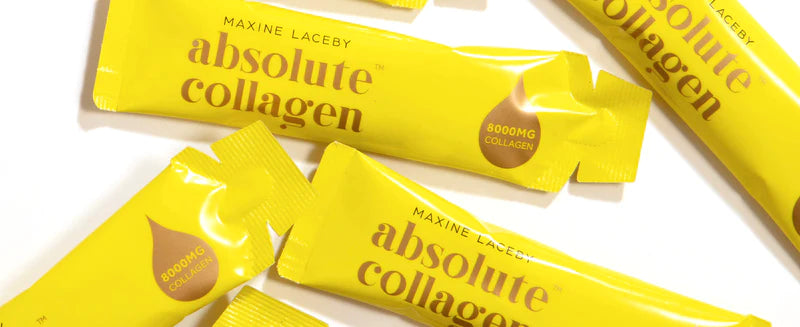 How Long Does It Take For
Collagen

Supplements To Work?

At Absolute Collagen, we know that answering the question 'do collagen supplements work?' is probably high on your agenda. Here, we chat through what collagen does for skin and how long it takes for collagen to work, to help answer any questions you may have.
How Long Does
Collagen

Take to Work on

Skin?

Understandably, many people who start taking collagen supplements for skin want to know what kind of results they're going to get from their efforts. After all, how many times have you tried a new skincare product, only for it to show no demonstrable improvements? It can feel quite deflating - and a pain on the pursestrings - which is why we at Absolute Collagen like to give you timeframes to see what collagen can do for your skin and how long it takes for collagen to work.

Luckily, you'll find our high-quality marine collagen supplement is quite special. With a highly concentrated dose of 8,000mg premium marine collagen in every 10ml sachet, you get some serious bang for your buck. With added vitamin C, our products also further support the benefits to skin.

Our passion for providing a premium product is one of the reasons our collagen supplements show results very quickly. Between 6 to 12 weeks is when our customers start seeing improvements to their skin appearance, with many
reporting absolute best results at the 12-week mark, as you will see further detailed in our recent collagen supplement clinical trial*.

Some studies have also found improvements in hair thickness (1) from taking collagen supplements and nail strength (2) - two other key areas of feeling your absolute best from the inside out!

Of course, when it comes to skin, collagen supplement results do vary from person to person - and you may be one of the lucky ones who see results within a week! The best way to gauge if collagen supplements are working for you is to take a selfie every day of your subscription. We're sure you'll be amazed at the results! For inspiration, take a look at our customers' Success Stories.

*There have been several reviews of published randomised clinical trials assessing the efficacy of hydrolysed collagen supplements. For example, Pu et al 2023 reported on clinical trials assessing the efficacy of products containing hydrolysed collagen and reported benefits for skin. There is a valid consensus showing that collagen supplements are efficacious as an antiaging treatment, improving skin hydration, elasticity and wrinkles when used for a minimum of 12 weeks.
How to get
best

results

from taking

collagen

supplements

It's all well and good learning why you should take collagen and seeing how collagen supplements work, but how about the long-term goals from enhancing your skincare routine? And does drinking marine collagen really work for longer than 12 weeks?

There are a few ways you can ensure you're getting the best results from taking a collagen supplement for your skin, especially if you want to know how long it takes for collagen to work.
1. Keep up with a
consistent
routine
As for when is the best time to take collagen, again, consistency is key. Collagen results can be found whether you take in the morning or at night - neither is better than the other - just try to keep the same routine going. So, if you start taking collagen in the morning, then try to take every morning thereafter, leaving 24 hours between each dose.
2. Choose a
high-grade
collagen
in a
concentrated
dose
You'll see how well collagen supplements work if you opt for a good quality collagen to begin with. Our liquid collagen, for instance, comes in a highly concentrated form of 8,000mg marine collagen in every 10ml sachet - a huge amount for such a small dosage, which also includes a healthy helping of vitamin C! As you will be consuming more collagen over time, the results of taking collagen for the appearance of wrinkles should appear quickly, up to and even before the 12-week mark.
3.
Keep
going
after your subscription ends
To continue your gorgeous skin journey, the best method of maintenance is to simply… keep going! While our subscription service runs in 12-week increments, there is no 'cut-off point' per se, so you can keep adding our quality collagen supplement to your skincare routine for as long as you wish. After all, natural collagen production depletes as we get older,
so if you're not supplementing when you once were, you could see some hints of lines and wrinkles reappearing once you've decided to stop taking collagen.
(1) Oesser S. The oral intake of specific Bioactive Collagen Peptides has a positive effect on hair thickness. Nutrafoods. 2020; 1:134-138. DOI 10.17470/NF-020-0019.
(2) Hexsel D, Zague V, Schunck M, Siega C, Camozzato FO, Oesser S. Oral supplementation with specific bioactive collagen peptides improves nail growth and reduces symptoms of brittle nails. J Cosmet Dermatol. 2017;00: 1–7. https://doi.org/10.1111/jocd.12393