How

to

Take

Absolute Collagen Supplements

Our premium liquid collagen supplement is pre-mixed and easy to take, formulated in the perfect dose and designed to fit effortlessly into your everyday routine.

We've put together a handy guide, so you know how much collagen you need, as well as how to get the most out of each dose, below.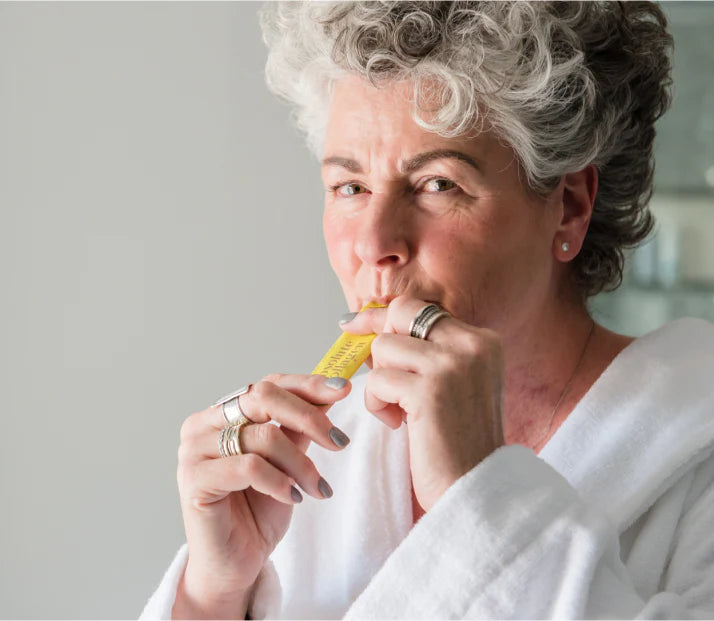 Best

way

to take collagen

You've probably read about the different types of collagen, which could come in powdered, capsule or liquid form. For us at Absolute Collagen, liquid collagen in a handy sachet is our preferred method!

Each of our sachets has been designed with ease and simplicity in mind, providing a perfect collagen daily dose of 8,000mg premium collagen. If you're wondering how to take collagen with a sachet, simply tear or twist open the sachet with the tab at the top, and squeeze the contents straight into your
mouth, or into a snack or drink of your choice. You can take Absolute Collagen at room temperature or refrigerated, it doesn't matter - and most importantly, it doesn't affect the efficacy of the collagen.
Twist the top, and tear sachet open.
Place open end in mouth, and take your collagen daily dose.
Alternatively, add to hot or cold water for gentle drinking
How much
collagen

per

day

for skin?

Good news - we've done all the hard work for you! Each sachet of Absolute Collagen is the perfect, expertly formulated dose of 8,000mg of hydrolysed collagen, the ideal amount of collagen per day mg.

As we have provided your daily dose in an easy-to-take form, you never need to worry about measuring your collagen daily intake or accidentally taking too much, or not enough. Just one sachet a day is all you need!

We recommend one collagen sachet per day. And while Absolute Collagen can be used as a great fitness supplement, the only thing we would advise when deciding the best time to take collagen is to avoid taking your collagen supplement before a protein-based meal or shake, or within 12 hours of another sachet (leave 24 hours between each dose for best results).

Is it possible to take
too
much
collagen?
Absolute Collagen is 100% natural, and we have had no reported negative or unwanted side effects.
As for how many milligrams of collagen per day you should be taking, our specially formulated collagen supplements provide 8,000mg of premium hydrolysed collagen. It is just the right amount for you and your beauty needs! If you do forget whether you have had your daily collagen sachet, then do not stress - excess collagen won't cause any harmful side effects.
For extra reassurance, the formulation of your Absolute Collagen daily intake does not include the following allergens: dairy, soy, wheat, nuts, crustaceans, molluscs and gluten. It also contains no artificial colours or flavours, and is free from fat and cholesterol, so it doesn't affect blood cholesterol.
It is extremely unlikely that Absolute Collagen will interfere with any medication you may be taking, but if you have
any concerns about this, as everybody has different circumstances, we would recommend consulting your doctor or healthcare provider.
When should I take collagen,
morning
or
night?
The best time to take collagen supplements is…whenever! You will still enjoy the same benefits if you take your sachet first thing in the morning or right before bed.
For the best and most consistent collagen benefits, we recommend taking Absolute Collagen on a long-term basis; many of our Absoluters see the most noticeable difference around 6-12 weeks. You can see how effective Absolute Collagen is in our recent clinical trial which looked at how much collagen for skin supplements helps to improve the appearance of wrinkles.

What does Absolute Collagen
taste

like?

Absolute Collagen is as absolute as it can be - it's 8,000mg of premium hydrolysed marine collagen, a splash of Vitamin C (this aids with absorption of the collagen) and a hint of natural flavouring. We use collagen from freshwater fish, but don't worry - there's no fishy smells or tastes here.

Some Absoluters report noticing a bitter taste, although most quickly get used to the flavour.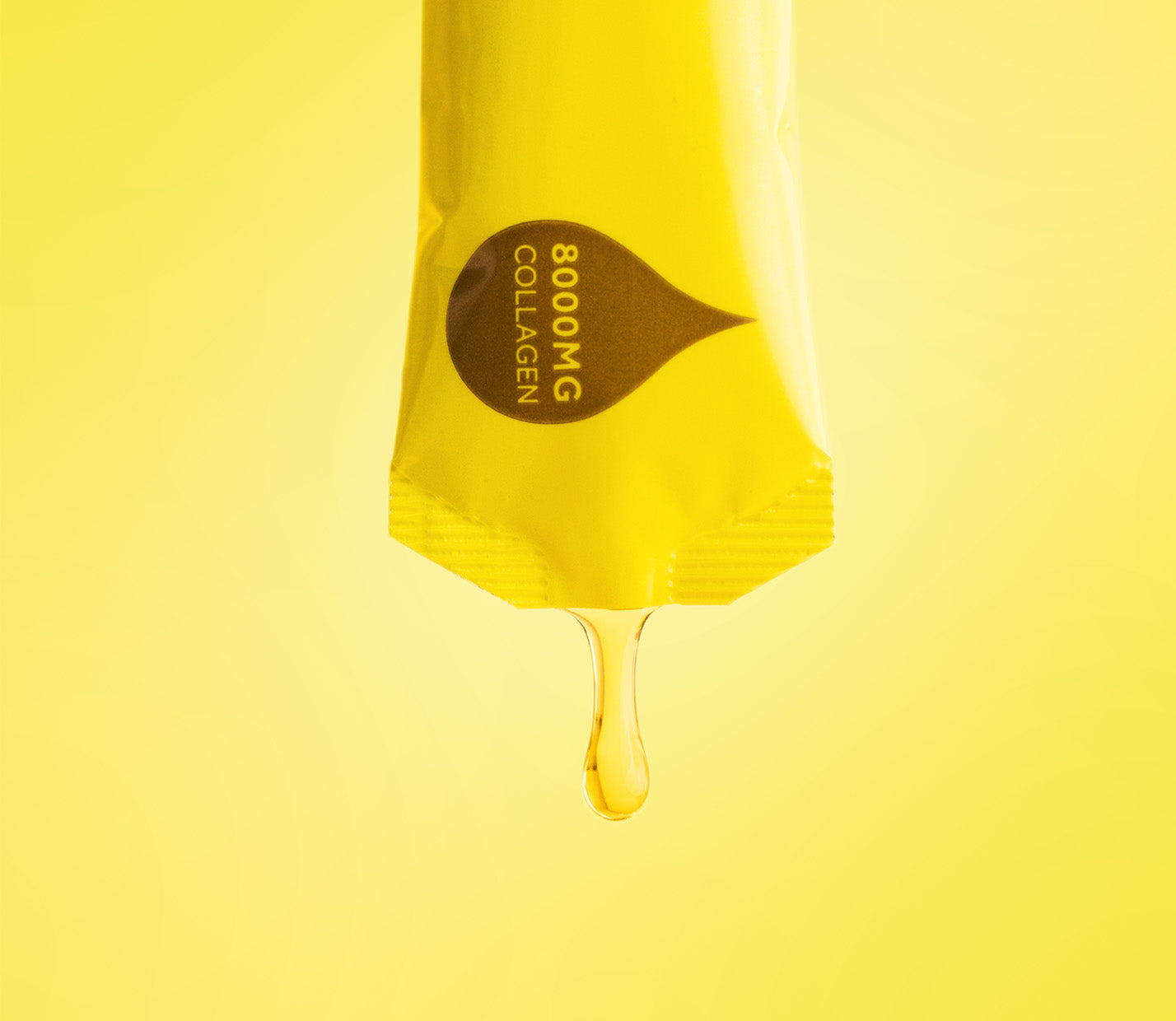 What is the best way to take
collagen
supplements
If you're not a fan of the taste of your collagen daily dose, you can switch up how you take collagen by mixing it with food or drink of your choice. We've got Absoluters who take it in orange juice, tea, coffee, water, porridge, smoothies, yoghurt - even on toast! It's completely up to you!
How does our founder suggest taking collagen for skin? Maxine says it's all about finding your mojo:
"Louise is all for the mid-afternoon "tisane" (in warm water) with a slice of fresh lemon. Margot's mojo is served early evening, mixed in a shot glass with fresh mint and warm water, we like to call this the "marjito". Tim takes his collagen daily supplement in yoghurt, Lisa in her tea and as for me. I'm definitely hardcore, down in one!"
What are
the
results
from taking Absolute Collagen?
We're proud to have thousands of happy Absoluters who love the benefits of our nifty little sachets!
Men and women of all ages swear by Absolute Collagen to keep their hair, skin and nails in tip-top condition, and we receive glowing five star reviews from all across the globe. The effects of Absolute Collagen most commonly include improving the appearance of wrinkles and fine lines, plumper and softer-looking skin, thicker-looking hair, and stronger feeling nails.
We love seeing all our Absoluters' before and after collagen pictures and their gorgeous video testimonials - the results truly do speak for themselves!
For more about how much collagen to take per day for the best results, take a look at our most recent collagen clinical trials. There you will see some of the amazing reports of better skin, hair, and nails from taking our award-winning marine collagen supplement for 12 weeks.
Saw results in 12 weeks

Noticed Softer Skin

noticed reduction of wrinkles