While every woman's experience is different, menopause is a time of transition for your body – which can sometimes be an uncomfortable and trying experience.  
But did you know that taking collagen for menopause can help you continue to live your best life?
The drop in oestrogen levels as a result of menopause coincides with the natural drop in collagen levels as we get older (by 50, we've lost around half of our collagen), which can impact such symptoms as dry skin and thinning hair. As such, taking collagen supplements for menopause can be extremely helpful for improving the appearance of skin, hair, and nails as we get older.
Want to find out more about collagen and menopause? Let's look beneath the surface.
What are the
symptoms
of
menopause?
From unexpected hot flushes at the most inconvenient times to mood swings that can make your everyday routine feel like a rollercoaster, menopause can be a very trying time in a woman's life.  
After all, the drop in oestrogen levels when you experience menopause has a major impact on your body, beyond causing periods to occur less frequently and then stop entirely. Not to mention the mental health symptoms that come with menopause that are perhaps
not spoken about enough.
If you're wondering whether you're currently experiencing these changes, read the most commonly reported symptoms of menopause, below:
● Absent periods
● Dry, itchy skin
● Hot flushes
● Night sweats
● Vaginal dryness
● Difficulty sleeping
● Low mood or anxiety
● Reduced sex drive
● Memory and concentration problems

How does
collagen

help with menopause symptoms?

While it's a completely natural part of ageing, menopause can be a very uncomfortable, sometimes painful, experience – but there are ways to help manage some of the outcomes of lower oestrogen levels.

For example, you can take collagen supplements for menopause to help improve the appearance of skin, hair, and nails as you get older. This is because collagen is an essential protein that plays a particularly important role in skin elasticity, making it feel more supple and
youthful-looking. The problem is that collagen levels start to naturally decline from the age of 25, with this decrease accelerating around 50 years old – which typically lines up with the beginning of menopause.

Find out about collagen and menopause symptoms, below, to see how our Absolute Collagen supplements can help you feel amazing from the inside out.
Collagen and menopause:
supporting
your
skin
One of the most common complaints we hear about menopause is dry and itchy skin, which is the result of hormonal changes that affect skin hydration. By taking Absolute Collagen for menopause, however, you can support your skin in the following ways:
Improved skin elasticity: Absolute Collagen supplements for menopause can enhance the appearance of skin elasticity and firmness, reducing the appearance of fine lines and wrinkles.
Support for overall skin: Taking Absolute Collagen for menopause, such as marine liquid collagen, can help your skin look and feel its best.
Collagen and menopause:
helping
your
hair
During menopause, hormonal changes can significantly
impact hair health. After all, oestrogen plays an important role in hair growth, with lower levels potentially leading to hair
thinning or lacking volume. Several ways that collagen for menopause can help your hair include:
Smoother hair: Taking Absolute Collagen supplements for menopause helps promote the appearance of smoother and glossier hair.


Stronger hair: When you consume Absolute Collagen supplements, your body breaks the collagen down into amino acids to build new proteins, which help to create stronger-feeling hair.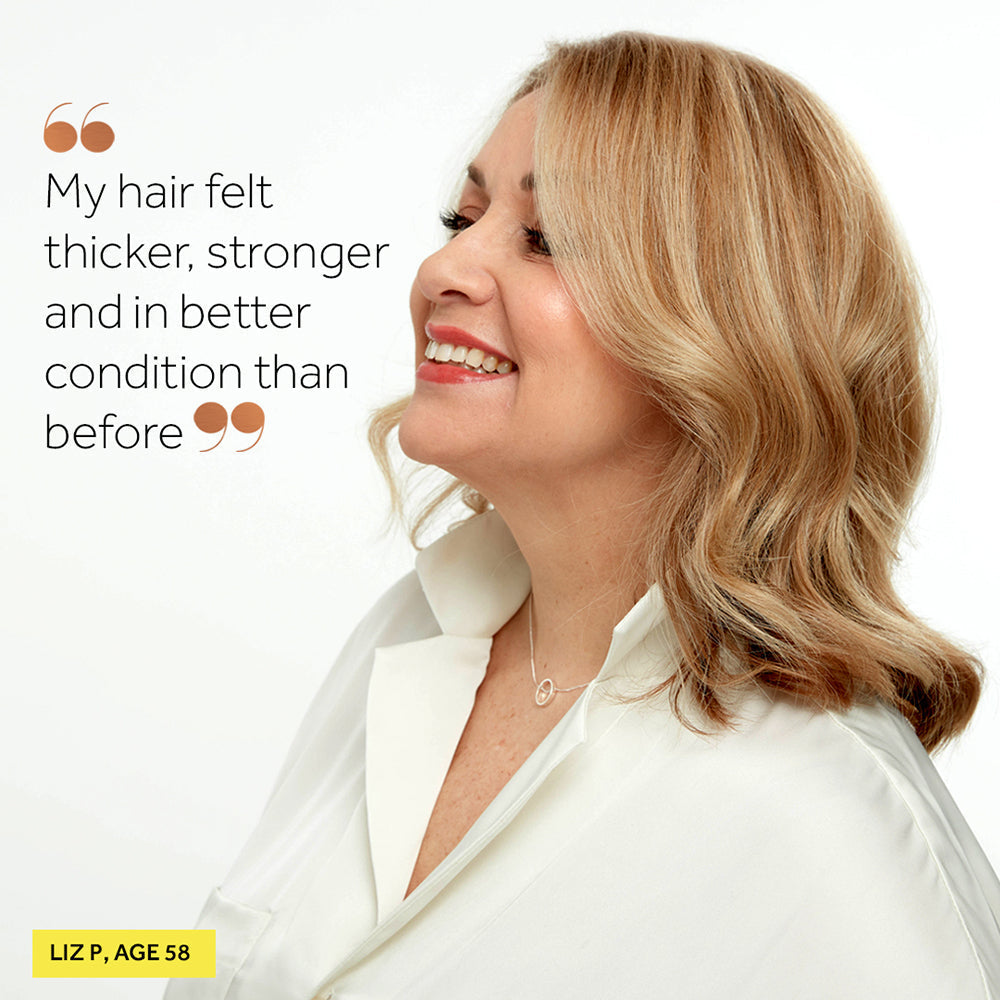 Our
Clinical
Study
Results
OF PARTICIPANTS EXPERIENCED IMPROVEMENTS IN SKIN EVENNESS

OF PARTICIPANTS EXPERIENCED IMPROVEMENT IN THE APPEARANCE OF FINE LINES AND WRINKLES

OF PARTICIPANTS SHOWED SIGNIFICANT IMPROVEMENTS IN SKIN ELASTICITY
Absolute Collagen
Success
Stories
Experiencing menopause can be challenging, but we take immense pride in our supportive community of Absoluters who willingly share their experiences and assist one another during this transformative phase.

Absolute Collagen supplements for menopause have become an integral part of their journey. By enjoying the benefits of great-looking skin, shiny nails, and luscious hair, our Absoluters feel a renewed sense of radiance and new-found confidence.
Still unsure about taking collagen for menopause? Read more about our happy Absoluters over on our Collagen Success Stories pages.
Collagen and menopause
FAQs
Is collagen
good
for
menopause?
While it is not a fix-all solution, taking Absolute Collagen supplements for menopause with its added vitamin C can help ease some of the symptoms that may be troubling you.
In her book, Menopausing, which is about living your best life with menopause, Davina McCall's collagen routine is briefly mentioned as an aid for her youthful, effervescent glow.
So, how does Davina McCall get such great skin? Every morning, she takes collagen supplements for menopause with a cup of tea, looking to minimise hair loss and dry skin. Davina McCall's menopause tips are certainly an inspiration to us all - as we can all agree she looks absolutely fantastic!
And you can follow Davina's lead by taking an Absolute Collagen supplement once a day. Easy! By taking collagen supplements when oestrogen levels are low, you too can help to enhance the appearance of skin elasticity, helping you feel your best self. Collagen for menopause can also help promote glossier hair when you may have noticed thinning or a less full shape.
What are the best
collagen
supplements
for
menopause?
Absolute Collagen's marine liquid collagen is one of the best collagen supplements for menopause symptoms on the market. Available in easy-to-drink sachets, this product offers your daily dose of collagen in concentrated 8,000mg measurements, helping to improve skincare and support the appearance of glossier hair.
Don't just take our word for it though – in our clinical trials, 100% of participants experienced improvements in skin evenness and the appearance of fine lines and wrinkles!
Which
Absolute
Collagen
products could help with menopause symptoms?
How much
collagen
should a menopausal woman take?
Your daily recommended collagen intake is 5g, though we offer one of the most concentrated marine collagen supplements on the market. With a whopping 8g of high-quality marine collagen per sachet, all you need to do is take one sachet per day to keep up with your revitalising skincare routine.
You might like these
collagen
supplements
for
menopause