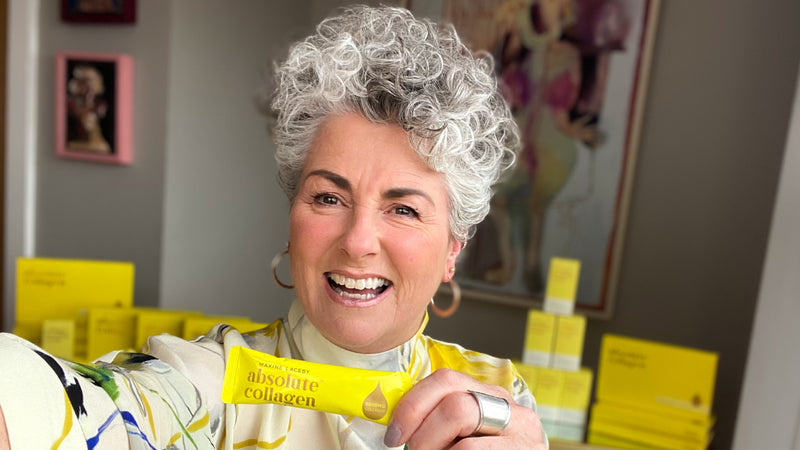 Sustainability

and Corporate Social Responsibility
Here at Absolute Collagen, we are on a mission to continuously improve our products, services, and overall brand. We want to make sure that we operate in the most responsible and sustainable way possible - for both the planet and people.
We believe that by working together and collectively considering the impact of our daily activities on the planet, we can truly make a positive difference in this world and create a more sustainable future for generations to come.
Sustainability plays a significant role in our mission as a business. That's why we take enormous pride in being a Certified B Corporation®, Carbon Neutral company, and a Living Wage Employer!
Continue reading to discover what we are doing to support our staff, the community, steps to reducing our environmental impact and support making the world a better place for us all.

We're elated to announce that Absolute Collagen is now officially a Carbon Neutral company! Sustainability is without a doubt integral to the ethos of AC, so to have this all-important certification is a huge achievement of ours. So, what does this mean for us all and the planet?
Absolute Collagen Is A
Carbon
Neutral
Company
Sustainability is without a doubt integral to the ethos of AC and in the summer of 2022, we reached a huge goal of ours by becoming a certified carbon neutral company!
What Does
Carbon

Neutral

Mean?

To qualify as a carbon neutral company, we have committed to remove the same amount of carbon dioxide (CO2) that we emit for Scope 1 2 and partial Scope 3 emissions. To achieve this, we've partnered with ClimatePartner to calculate our company carbon footprint and offset our carbon emissions by supporting third-party carbon offsetting projects across the world. 

One of the environmental projects we are now a part of is Social Impact Nationwide India which gives out microcredits to the 700 million people in India who are currently cooking over open fires, allowing them to buy efficient cooking stoves and solar lights. 

We're also supporting the Plastic Bank initiative to prevent 10kg of plastic waste from entering the ocean for every ton of carbon that we offset, which will both help to protect the climate and improve the lives of local people.
To read more about Absolute Collagen's collaboration with Climate Partner, click here.
Recycling

and Packaging

As well as offsetting our carbon footprint, we have looked at our internal processes to ensure these are as sustainable as possible too. One huge area of focus has been our packaging.

Our collagen sachets and packaging are made from 100% recyclable materials.

The cardboard we use in our packaging is 100% recyclable and accepted by all local authorities at kerbside. However, as the collagen sachets fall under the flexible plastic category, most local authorities don't currently offer kerbside recycling for them.

This is why we set up our free sachet recycling scheme, which we encourage all of our Absoluters to join.

For our other products and their packaging, we're always working hard to make them more sustainable, too:
Our glass serum bottles are recyclable in your standard recycling collections - just remove the pipette and rinse the bottle first!
Our shampoo and conditioner bottles are made with 50% post-consumer recycled (PCR) plastic, which means we're diverting plastic from landfills and ensuring it can be recycled again and again.
We have even ensured that absolutely all cardboard used throughout the business, from every stage of our supply chain right up to our customer orders, uses recyclable cardboard.
We've already come a long way in our carbon neutral journey but there's always more that can be done. As new technologies and innovations are launched, we will continue to adopt new ways to better our product and services, all whilst supporting in each way we can to protect our planet.

How Can You
Reduce
Your
Carbon
Footprint?
Carbon dioxide (CO2) is the most common greenhouse gas which traps heat close to the Earth's surface. It occurs through natural sources and processes including plant decay, volcanoes, and the breath of animals. However, it's also produced by human activities such as burning fossil fuels. 
From on-the-go cups of coffee to morning commutes, modern life has resulted in us all having a personal carbon footprint some way or another.
Here are a couple of other carbon footprint examples that may surprise you:

Looking at these examples, it's clear that even the smallest of lifestyle changes, like skipping your morning take-away coffee and walking to the shops on a sunny day, can make a huge difference in reducing your own carbon footprint.
Our
Sustainability

Promise

To You

Every single Absolute Collagen product will always be developed with a responsible, ethical and sustainable approach. We only use marine collagen in our products and we have worked with our supply chain to ensure the collagen we use is responsibly sourced. 

We also only work with suppliers and partners who share our commitment to our goals. 

On top of everything we are already doing, as part of our carbon neutrality plan, we are making a pledge to:

 ·       Review our distribution practices by the end of 2023

·       Work in collaboration with our supply chain to understand the carbon footprint of our products by 2024

·       Make all of our products recyclable or refillable by 2030 

We also promise you that we will maintain an Environmental Management System (EMS) to ensure that our impact on the local environment is handled as effectively as possible. 

Our other future plans include conserving resources, switching to renewable energy sources, increasing energy efficiency, and recycling or reusing as much waste as possible.
Absolute Collagen Is A
Certified
B
Corporation®
What is a
Certified
B
Corporation®
Company?
Being a Certified B Corporation ® Company means that Absolute Collagen stands for the best in ethical practice, and we use our business and industry presence to help develop a more sustainable and inclusive environment.
As a B Corp, we're part of a global community of businesses that meet high standards of social and environmental impact.
To become certified, we went through a rigorous B Corporation® assessment process. The few companies that pass this assessment and achieve the high standard required are given this accreditation - showing that they meet the highest verified standards of social and environmental performance, transparency, and accountability.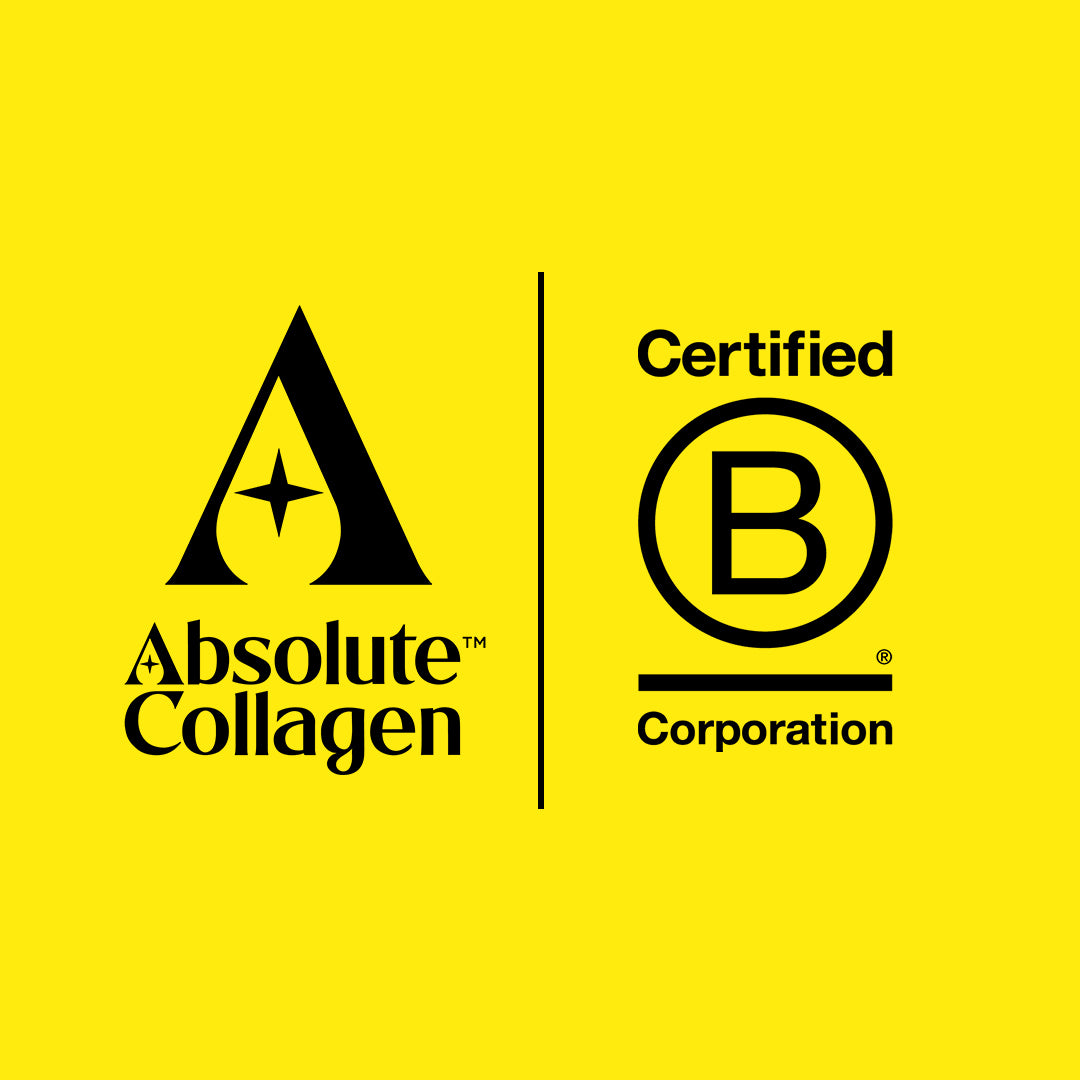 What Does AC Being A
Certified
B
Corporation®
Mean For You?
For you this means that you can take your AC knowing that you have chosen an ethical brand which focuses on the environment and people more than profit.
You can rest assured that Absolute Collagen has, and always will, prioritise sustainability, ethos and community. They all play an integral part in our business and are at the core of what we do.
Gaining B Corp certification® is an incredible achievement and we're thrilled of the acknowledgement this gives us as a brand. However, even with this phenomenal recognition, our pledge to the community and the environment will not end here. We are always striving to do more and find areas where we can be involved.
To read more about how AC achieved this amazing certification, click here.
Absolute Collagen Is A
Proud
Living
Wage
Employer
The cost of living crisis has hit many of us this year and, with inflation still rising, it's left many people struggling with day to day living costs. 
We recognise this and it is one of the reasons we have become a Living Wage Employer. 

What Is A
Living
Wage
Employer?
Being a certified Living Wage Employer means that we have, voluntarily, taken a stand to ensure our employees are all paid more than the minimum wage. 
We are committed to being a responsible employer. As well as it being the right thing to do, we believe that our staff deserve a wage that meets their everyday needs. 
It might surprise you that only 12,000 employers in the UK are accredited Living Wage Employers. Though we are in good company, with the likes of Google, Nationwide and even our favourite smelly shop, LUSH also being certified Living Wage Employers.
To read more about Living Wage Employers, click here.
Together

We Are Stronger

As a female founded brand, inclusion and diversity within our team is important to us, and we're proud to have a diverse team under our female-led leadership team. 

We believe strongly in Maxine's mantra: "The Power Of SIR", which means everyone deserves to feel Safe, Important, and Respected. 

This extends to every single Absoluter, which is why we are proud to be transparent in using real Absoluters in our marketing campaigns, rather than non-Absoluter models. We also never retouch, filter, or edit our Absoluters in campaigns - it's all about celebrating real people and real results.

As shown by us being a Living Wage Employer, our people are very important to us. We have our own Diversity & Inclusion Committee and Charity and Social Squad who work hard to help us all support great causes and schemes, educate about important topics, while also organising team bonding events and socials. Another reason why Absolute Collagen is an absolutely great place to work!

Charity and
Community
If you're one of our wonderful Absoluters already, you'll know just how important community is to us here at Absolute Collagen.
We're very proud to support a variety of charities and good causes including the Prince's Trust and CoppaFeel, both of which are important to Maxine on a personal and professional level. 
We support good causes as a business, donating money and more importantly, time and practical support. Maxine also works extensively with these charities as a philanthropist.
You'll always find us busy down at The Birmingham Children's Hospital, helping pack donation bags. We also have a team of AC team runners who take on the annual Birmingham Half Marathon,to raise some much-needed funds for the hospital too.
Make sure to regularly check out our blog page to keep up to date with all the amazing charity events and plans we have for the year ahead.

Want to chat to our team more about sustainability? You can find our contact details here.