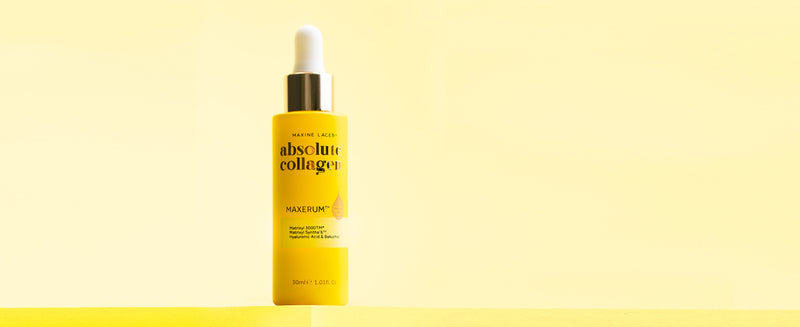 Maxerum
Clinical

Results

and Efficacy

Alongside the customer reviews from Absoluters who have been using Maxerum, our collagen-boosting serum, we are proud to share the results of an independent clinical study of the serum.
This clinical trial found that Maxerum had a good efficacy both in reducing skin wrinkles and increasing skin firmness when used twice daily over a period of 28 days.

Experimental Conditions and
Results
The experimental conditions were as follows:
Repeated applications of the serum under normal conditions of use at home, twice a day for 28 consecutive days, by a panel of 22 female test subjects. They ranged between 44 and 60 years in age, with a skin phototype from II to III. This refers to the phototype system of classifying skin types based on how the skin responds to UV radiation, i.e whether it is prone to tanning or burning. Subjects had normal skin on the face (including dry skin), and also all had visible fine lines and wrinkles on the face, including crows feet and other wrinkles around the eyes and forehead.

Over the course of the trial, the subjects applied Maxerum to cleansed, clean faces twice daily, then followed this by applying moisturiser - basically, as part of an everyday skincare routine, which is how we recommend Maxerum is used.
Under these conditions it was found that Maxerum has a very good skin acceptability. The study also concluded that the product has a good anti-wrinkle efficacy, with an 18% improvement observed over the 28 day study period. Maxerum was also found to have good efficacy in improving the skin firmness, with a 28% improvement measured over the 28 days.

Cosmetic Qualities and
Efficacy
Overall, the clinical study found that Maxerum was very well appreciated for its cosmetic qualities and efficacy. In addition to the anti-wrinkle and firmness benefits mentioned above, the participants reported various other cosmetic benefits from using the serum. In particular, their skin had increased brightness and hydration after using Maxerum. Participants reported that their skin appeared both more toned and elastic, with increased plumpness and less visible lines and wrinkles. Additionally, they commented on how easy it was to apply, how pleasant the texture was, and how lovely they found the lavender and rose geranium scent.
And what's more, we received some fantastic feedback from the test subjects themselves. In a survey following the clinical trial, 91% of participants said they would buy the product, 91% said they enjoyed using the product, and 91% would also recommend the product to a friend.

We're very proud that Maxerum has achieved such great clinical results, especially as they support the fantastic reviews and feedback we've been receiving from our lovely Absoluters. If you have other questions or comments about Maxerum, as ever please feel free to get in touch with the team.