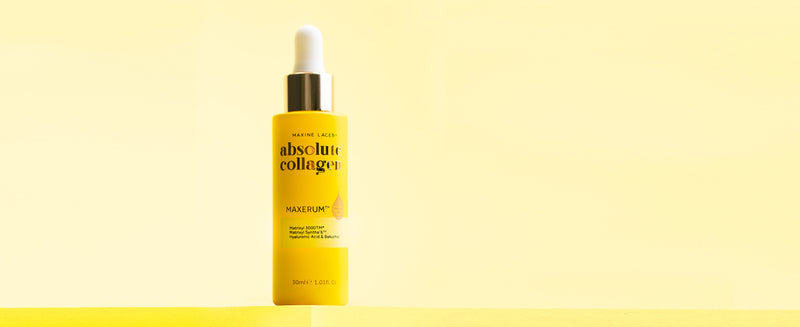 Skincare
FAQs
Here you will find the answers to all things Absolute Collagen. If you can't find what you're looking for, please get in touch.
FAQs
How often do you need to use Maxerum™?
We recommend using Maxerum twice daily, once in the morning and again in the evening after cleansing your skin. It is simple to incorporate into your daily skincare regime. For best results use alongside our Marine Collagen Supplement.
How much should I use?
Because of its rich and creamy texture a little bit of Maxerum™ goes a long way, so a 20p size is the perfect amount and will easily cover the whole face and neck area.
How does it work alongside the collagen supplement?
Our hydrolysed marine collagen supplements are ready-mixed and have been formulated to contain the maximum amount of collagen in the smallest dose, with 8000mg of collagen per 10ml sachet. By incorporating the Absolute Collagen liquid supplements and Maxerum anti-ageing serum into your daily skincare routine, you'll be supporting and protecting your skin and body both inside and out. It'll be boosting collagen production internally whilst also moisturising and nourishing your skin to protect from external damage.
Does it help wrinkles and fine lines around the eyes?
Yes, it's clinically proven to reduce wrinkles and increase the skins' firmness. However, we do recommend you avoid using it in the delicate eye area.
At what stage do I use it in my skincare routine?
Apply a small amount of Maxerum™ to the face in the morning and night. Apply after cleansing and toning but before moisturising and SPF. Allow the product to fully absorb into your skin before applying your moisturiser.
How long will it last?
Using as recommended and twice daily, our Maxerum™will last you around 6 weeks. Our handy subscription repeats every 6 weeks to ensure that it is delivered to your door in time for you to not run out.
Can you use  Maxerum™ under around eyes?
Whilst our serum is kind to skin and can be applied to your entire face, we don't recommend using it around the immediate delicate eye area.
Can it be used with micro-needling?
If you are undergoing micro-needling we recommend consulting with your micro-needling specialist that you are using Maxerum and seek expert advice.
Can it be used with a derma roller?
Yes it's absolutely fine to use Maxerum with a derma roller.
Can it be used alongside a retinol product?
You can use a retinol product alongside our Maxerum™, but one of our star ingredients is actually "Bakuchiol" which is a natural alternative to retinol and is gentle for use day and night. Bakuchiol is the first natural alternative to retinol, making it more soothing and beneficial for your skin as opposed to the harsh and irritating symptoms associated with retinol. Retinol is an amazing, proven ingredient, however we wanted something more gentler for everyday use!
Is it suitable for sensitive skin?
Maxerum™ contains a dense amount of active ingredients. We have many customers who happily use Maxerum™ even with sensitive skin. If you are at all concerned, we recommend you carry out a patch test prior to using any new product. Apply a small amount of product behind the ear for up to three days: should you experience any redness, irritation or discomfort during this period, then we would not recommend use of that product.
Is it non-comedogenic and is it suitable for oily/acne prone skin?
Yes, Maxerum™ is non-comedogenic so that means it contains ingredients that won't clog or block the pores on your skin.
Is Maxerum™ vegan and cruelty free?
Yes, our Maxerum™ is not tested on animals meaning it is cruelty free and vegan. 
How do I carry out a patch-test?
We always recommend you carry out a patch test prior to using any new product. In order to do this apply a small amount of product either behind the ear or on your forearm for up to three days: should you experience any redness, irritation or discomfort during this period, then we would not recommend use of that product.
Do skincare products expire?
Yes, all skincare products have a limited shelf life, which is normally highlighted on the packaging. Exposure to hair and bacteria means the product begins to break down and will eventually become ineffective for use. Thankfully, our Maxerum is sent out on a 6-week subscription basis, so if you use it daily you never have to worry about it expiring.
DISCLAIMER
This product is not intended to diagnose, treat, cure or prevent any disease. Individual results will vary and are dependent on skin type and skin condition. We always recommend a varied, balanced diet and healthy and active lifestyle.