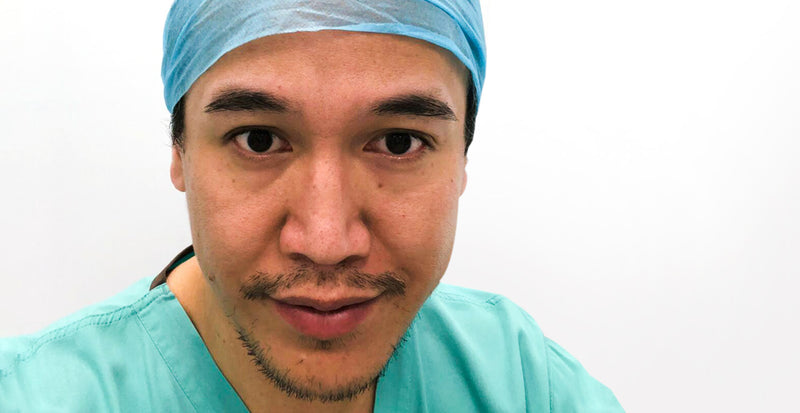 Dr

Thurein

Ne

Win

- The Absolute Collagen Dermatologist

Meet our skin expert Dr Thurein Ne Win, our resident dermatologist and a fully qualified medical Doctor at the Plymouth University Hospital.
What is a
dermatologist?
A dermatologist is a medically qualified doctor who specialises in practising treatment on skin, hair and nails. They are clinically trained in identifying and diagnosing up to 3000 different health conditions which concern our skin, nails and hair including acne, eczema, skin cancer and dermatitis. 
Who is
Dr
Ne
Win?
Dr Thurein Ne Win is a senior dermatologist and specialty doctor at the University Hospital in Plymouth. He is also a clinical researcher for the Plymouth Medical School.
With almost 20 years of medical practice and experience to his name, Dr Ne Win is a fount of skincare knowledge. In his day job, he helps to examine and diagnose both child and adult patients with conditions regarding their skin - but he also works with us here at Absolute Collagen as our resident dermatologist. 
This means that, as a subscriber exclusive perk, our Absoluters can receive individualised recommendations with Dr Ne Win for any issues or questions they may have about their skin.

Absolute

Collagen

and Dr Ne Win

We've chosen to work alongside Dr Ne Win not just for his professional knowledge and experience of dermatology, but because he is an avid Absoluter himself! Dr Ne Win has been taking Absolute Collagen for almost 4 years and is a fan of the results AC has on our customers.

As our natural collagen levels begin to diminish, starting from the age of 25, Dr Ne Win recommends drinking our Absolute Collagen supplement for boosted, glowing, more radiant looking skin. With each 10ml sachet filled with 8000mg of premium hydrolysed marine collagen, this daily intake will support your skin's collagen levels, helping you enjoy a boosted glow you can really see and feel! Plus, it can help support your nails and hair, too!
How does collagen help
skin

and

nails?

As mentioned above, our natural collagen levels begin to reduce when we turn 25, and this is reflected in our skin and nails. Our skin in particular begins to suffer by showing visible signs of ageing including fine lines and wrinkles and our nails weaken by becoming brittle and prone to breaking and peeling. These signs are often unwanted, and can impact our confidence and sense of self. Collagen decline due to ageing is natural - but it doesn't mean you can't feel your absolute best!

Absolute Collagen can help your skin and nails by boosting your body's collagen levels with our award winning collagen drink. A daily dose of our supplement can support more hydrated, glowing skin and nails that look and feel fantastic - so you can feel your absolute best, most confident self.

Not only that, but Dr Ne Win also recommends our Maxerum Collagen Boosting Serum. 

Dermatologically tested, our co-founder Maxine Laceby has developed and created the Maxerum™ herself! Formulated with powerful ingredients including bakuchiol and hyaluronic acid, the Maxerum™ has been clinically proven to boost collagen levels in our skin and fill out wrinkles, for plumper, healthier and younger looking skin. Our clinical trial discovered that our Absoluters saw a 18% visible reduction in wrinkles in just 28 days, and a 28% increase in skin firmness.
Q&A

with Dr Ne Win

Want to hear more advice from Dr Ne Win? Check out his Q&A with our co-founder Maxine below, where he discusses more about his background and experience as a dermatologist and why he recommends Absolute Collagen.