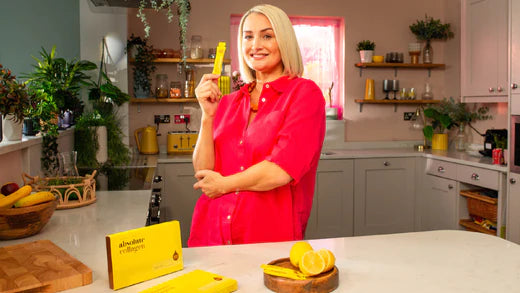 July 7, 2022
Maxine's June Roundup: We made the Times 100, another CEW win and WE'RE ON TV!
June was an eventful and incredible month for Team AC - with our first ever TV campaign, placing 4th on Sunday Times 100 list, and another award win for our haircare range! Read on to find what I've been up to this month...
June was a monumental and jam-packed month for Absolute Collagen, with an amazing series of events taking place back to back (even I can't keep up!)
June was a month filled with a lot of firsts, the biggest one being… our first ever TV ad!!! That's right, Absolute Collagen is now on the big screens with our first ever TV campaign.
We set out to Manchester to shoot the ad across two days, where Darcy was joined by an incredible crew who helped bring the dream to life. The biggest and most important part of the campaign for me was to centre it around our amazing Absoluters, without whom this opportunity wouldn't even be possible. So, we asked 5 incredibly fabulous Absoluters to take part and be the leading ladies of this campaign. We cast Silvina, Anna, Adele, Holly, Natalie and Natasha who are subscribers of Absolute Collagen and genuinely love and use the products.
Not only are we on the silver screen, but the AC adverts are also exhibited on billboards and displays around Birmingham including Grand Central Station - how exciting! If you spot us during the month of July, do tag us on social media.
If you'd told me in 2017 when Absolute Collagen first launched that I would have my own TV ad airing on national television and displayed on billboards, I wouldn't have believed you. However, 5 years later here we are and I still can't quite believe it's happened, a real pinch me moment.
As well as our TV debut, Absolute Collagen was also featured on the Sunday Times 100 list of the UK's fastest growing companies of 2022! Out of the 100 places we ranked 4th! This is an outstanding accomplishment not only to rank so highly, but to be placed on such a prestigious list amongst other fantastic UK brands. This achievement is an honour to have and is a testament to Team AC for their immense hard work in getting Absolute Collagen to where it is today.
Now let's talk about haircare and award news, as our Absolute Collagen Thickening Shampoo won the highly reputable CEW Consumer Choice Award for Best New Hair Product. Not only is this a huge win for us here at AC, but winning this award is extra special for me as it was given to us by you, our Absoluters. Voted for by the public, having this award really adds that extra value to winning and shows just how amazing our Absoluters are - so, thank you to everyone who voted for us.
After being named one of Forbes 30 under 30, my daughter and co-founder Darcy has been sharing her expertise and knowledge with young entrepreneurs. This month she was featured on Amazon's Instagram Live, where she joined a panel of young entrepreneurs and celebrities to discuss what it's like to run a business in the new digital age. To have Darcy represent the Absolute Collagen brand was a remarkable achievement.
Lastly, moving away from the company news and onto a more personal venture - I am writing a book! I flew off on a nice little getaway to Greece, to not only refresh my mind, but to work on my book which is a celebration of women, how resilient and capable we are and how we just get on with the job in hand. It covers my journey, an everyday woman trying to make her way in life & business. Covering everything from; childhood to motherhood to business at 50 - the ups, the downs and everything in between. More on this to come soon, so watch this space…

Article written by Maxine Laceby
This blog post is written by Maxine Laceby, co-founder of Absolute Collagen. Maxine founded Absolute Collagen at 50 years old, after experimenting with a recipe in her kitchen. She went from being a full-time mum to becoming a beauty business owner in a just a year. Now, an award-winning entrepreneur Maxine always puts our amazing Absoluters at the heart of everything we do.